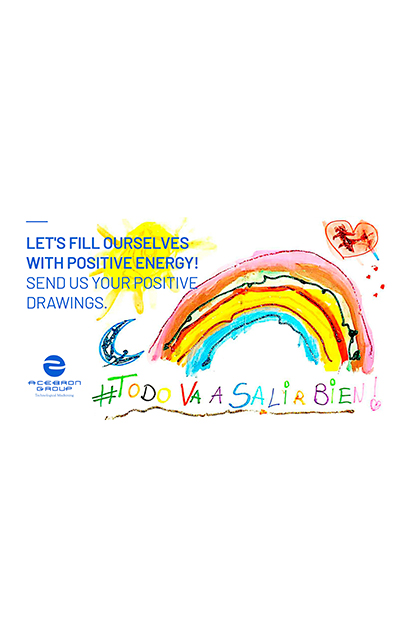 Acebrón Group Crisis-Covid19 [Update 31 March 2020]
[Protocol Update 31 March 2020]
Due to the health alarm that we are currently living as a result of the coronavirus COVID-19 crisis and complying with the Royal Decree Law 10/2020 approved by the Council of Ministers, on March 29, which regulates a retrievable paid leave for people employed who do not provide essential services, in order to reduce the mobility of the population during the fight against COVID-19, we inform you:
The activity developed by Acebron Group is included in point 5 of the annex and it is also part of the distribution chain related to the generation of electrical energy; being, the activities carried out by our clients, essential for the correct operation of this electrical generation activity, as well as, for the maintenance of certain critical infrastructures that, in accordance with Royal Decree 463/2020, of March 14, declaring the state of alarm for the management of the health crisis situation caused by COVID -19, must continue to function properly.
This is the reason why, until April 12th, our facilities will remain open within the minimum services necessary to provide our repair and manufacturing services for those urgent orders that come from verified essential sectors clients.
As we have been doing since the beginning of this health crisis, we will guarantee the protection and safety measures for our workers, by strictly applying our Covid-19 protocol and, furthermore, only those people essential for the development of the activity will have to move.
Our team from the commercial, purchasing, administration and technical departments will continue to carry out their functions electronically, and will attend your inquiries by email or telephone.
We hope this situation will be soon solved and that we will recover the normality that we all pursue.
Most important measures that will be carried out
Taking into account the uncertainty of this complicated and unprecedented situation, we will adapt our decisions daily according to its evolution, always with the aim of minimizing the economic impact that we can all suffer and maintaining our service, as well as ensuring the health of our employees and people with whom we come into contact.
We will now share with you some of the multiple security measures that we are implementing in this alarm period:
We have made the decision to eliminate all face-to-face meetings, both internal and with customers and suppliers, replacing them with online meetings.
Another measure taken is to establish working shifts for all office and production personnel. Our entire team will continue to be available by email, landline phone and mobile to ensure good communication at all times.
We have facilitated the reconciliation for those workers with children who have been affected by school suspension, with the means agreed between company and worker, providing flexibilize schedules and telework, whenever possible..
When and wherever it is possible, smart working is being carried out.
The hygiene and cleanliness of all facilities have been reinforced, especially in the contact areas.
The dining rooms, showers, changing rooms and common areas have been closed.
We are using communication channels by instant messaging with our entire team to inform about all the relevant communications regarding Covid-19 and organizational matters.
We have made available to our workers, and urged their constant use, all the means of safety and hygiene at work necessary for prevention: masks, gloves, sanitizing gel, goggles and protective jumpsuits.
A special protocol has been established for mandatory loading and unloading operations.
To ensure the understanding of all this measures by our entire team, specific training has been given, explaining to each person the importance of complying with them. In addition, to raise awareness, posters have been displayed with information about the measures and also, the most relevant actions have been projected on our production screens and filers.
In these difficult times, we believe that solidarity and sharing information is very positive for everyone, this is a new situation and every day the circumstances change, which is why, we want to share with you our protocol and the measures we take, in case it can help you.
You can download it by clicking here: Measures against Coronavirus – ACEBRON
#everythingwillbefine Movement
In these delicate moments, many children share their solidarity from the windows of their homes, showing the world their rainbows. These are drawings to teach other children that they are not alone in this quarantine and to send a positive message.
We want to encourage you to share a photo on your social networks with the hashtag #everythingwillbefine and thus show the message to the rest of the world.
If your children have drawn rainbows, we encourage you to share them directly with us and we will make a collage to fill the networks with positive energy publishing it on our website and Linkedin.
ACEBRÓN GROUP wants to transmit, just as indicated by the Health Authority itself, tranquility and trust..
Even in these particular moments of greatest difficulty, we continue to work to guarantee the best quality of our service. Today more than ever, we thank you again for the trust you place in us every day.