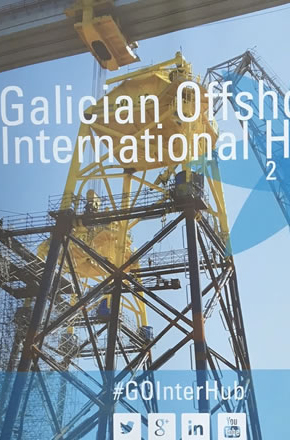 Galicia Offshore Internation Hub. 2016. Ferrol. 12lv and 13th May, 2016
From Acebron Group, as members of GOE, we collaborate and participate in the Galician Offshore International Hub held on 12 and 13 May at the headquarters CIS Galicia in Ferrol.
The main objective of this is event, organized by Asime, was spread the enormous growth potential of offshore wind energy market, the development that is taking this industry in Galicia and the benefits that may represent aspects such as job creation.
We could meet by the hand of the best professionals, experiences, projects and future prospects of a strategic and growing sector as is the offshore wind.
Acebron Group is already collaborating actively in the sector making components for Windar in Statoil Hywind project and makes a firm commitment to this strategic sector.
These were some of the key relevant data highlighted during the conference:
One of the keys for the future to achieve cost reductions throughout the sector and auxiliary industries in order to be competitive.
The safety and health of people who have to access the platforms are critical in the development of a project.
Partnerships and collaborations between companies are necessary to carry out a project of this type.
The cost of any repairs offshore is 20 times higher than onshore. Quality assurance is the goal.
10,000 jobs in a decade, it is what can bring to Galicia offshore wind power.
R & D and training: keys to the future to ensure our competitiveness in the offhore sector.
It is necessary to have a stable regulatory framework for the development of offshore projects.
Links:
http://www.asime.es/galician-offshore-international-hub-2016/
http://www.asime.es/navantia-no-se-mueve-con-el-viento-la-eolica-offshore-es-apuesta-estrategica/
Images: