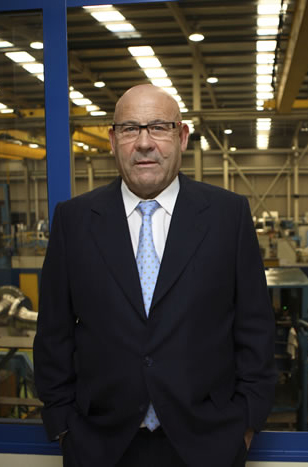 Mr. Bienvenido Acebron recognition his business career
D. Bienvenido Acebron recognition throughout his business career
The gala program of economic promotion "As Pontes Emprende 2016" which will take place on May 27 in the cinema Alovi As Pontes, will bring in its third edition a tribute to D. Bienvenido Alvarez Acebrone, our president and founder, as recognition of his business career for its entrepreneurial character in As Pontes.
Bienvenido Acebron D. Alvarez.
It is a self-made man. He started working at age 16 as an apprentice in the National Electricity Company, which is now Endesa in Ponferrada, and from that moment not stopped doing it tirelessly. He worked as a welder and assemblies throughout Spain and later in France during the 60s In 72 returns to Spain and begins to manage his first company, a tire workshop. In the 80 implanted in San Ciprian and make the Rodabell group with another partner, working as an auxiliary company for Alumina Aluminum , which is now Alcoa. In the early 90 creates Rodabell As Pontes, with the same partner, as a service company for Endesa and the As Pontes mine, and in 2000 founded Acebron Group.
His entrepreneurial spirit, willing to take risks in all its projects, its vision and business, his willpower, his tenacity, his ability to work, his optimistic character, his great leadership and people skills, have allowed him, with great effort and sacrifice, to have the business group we know today.
Currently the companies that make the Rodabell and Acebron group are formed by a team of 223 professionals, closing 2015 with a turnover of more than 26.8 million euros. Both groups are internationalized and provide strategic services for leading companies in sectors such as energy, aerospace, offshore, shipbuilding, aluminum, or equipment.
Links
https://aspontes.org/es/reconocimiento-d-bienvenido-acebron-por-toda-su-trayectoria-empresarial/
http://www.lavozdegalicia.es/noticia/ferrol/as-pontes-de-garcia-rodriguez/2016/05/13/homenaje-dueno-acebron-gala-as-pontes-emprende/0003_201605F13C6992.htm
Images: