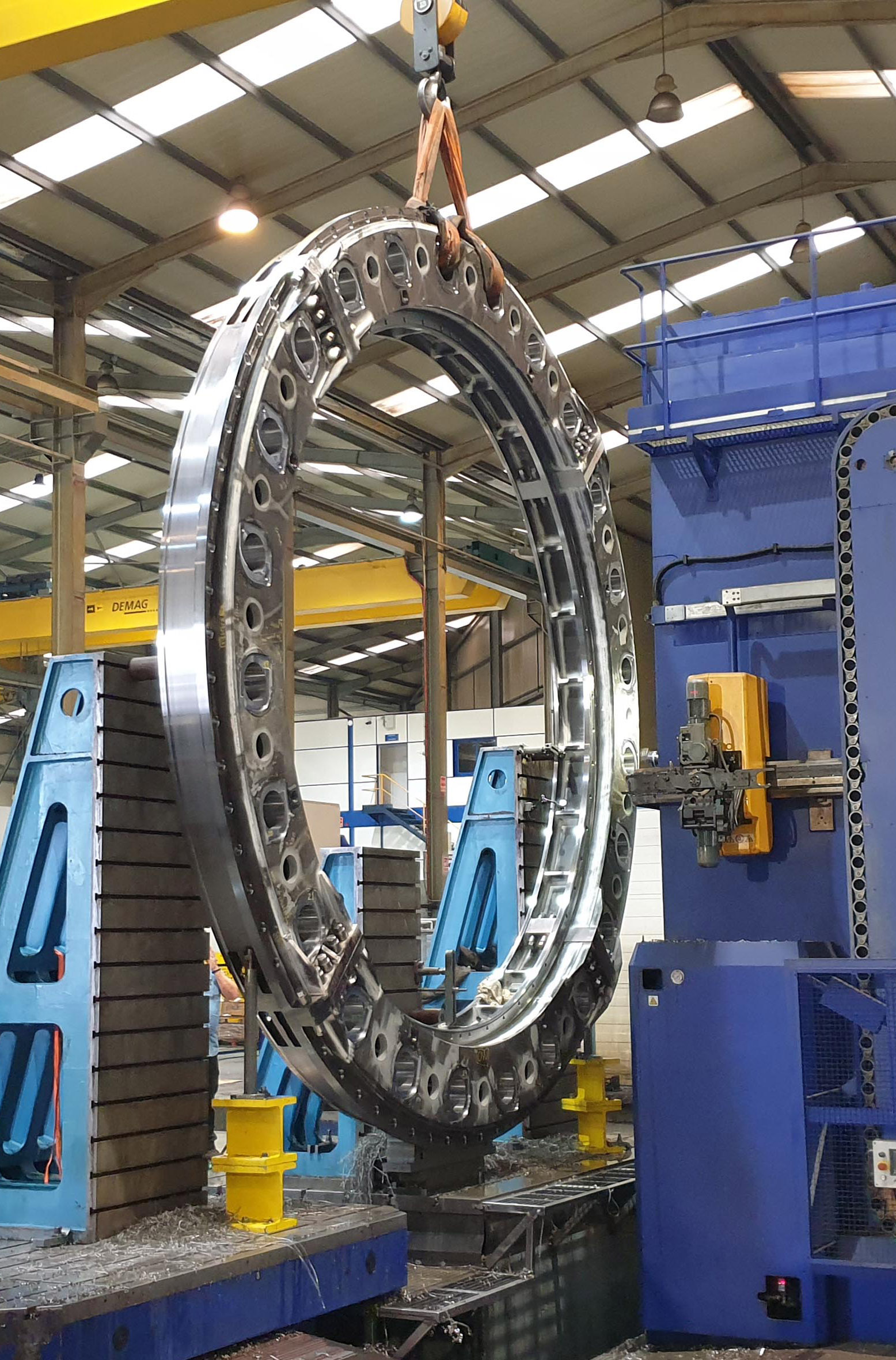 Big Dimensions Machining and CNC Processes
We live in a fast-paced world where productivity and always offering clients optimal results at the right time, are a premise.
One of the strategic lines of Acebron Group in recent years has been orientating machining solutions towards machining large and very precise parts, machining complex geometries and all types of materials.
Our wide and diverse machinery allows us to deal with the machining of practically any type of component and material, always adapting ourselves to our client needs and guaranteeing on time delivery times. Following this line, we manage to make large pieces for sectors such as the renewable energy, reducing the environmental impact.
We collaborate with our clients to make technical improvement to the work piece, providing added value and our technical know-how, offering the following services, in which we highlight the maximum capacities:
Precision machining in short and medium series

Machining of very large pieces

Boring CNC (14,000 * 4,000 * 1000mm)

Conventional horizontal turning and CNC ((Ø3,800 * 8000mm)

Milling and CNC (6,000 * 3,559 * 1100mm)

Drilling, threading and adjusting

Grinding

Balancing

Reverse engineering
There are still manual jobs in some of  the machining processes which can cause not only hight production costs but also workes' stress, limiting the productivity and therefore the company's profit.
To overcome all these challenges, abundant software has been developed to help with the treatment and processing of the metals and one of them are machines CNC (Computer Numerical Control). Nowadays we use the power of the CNC machines to end the traditional processes that are time-consuming, letting us achieve better productivity.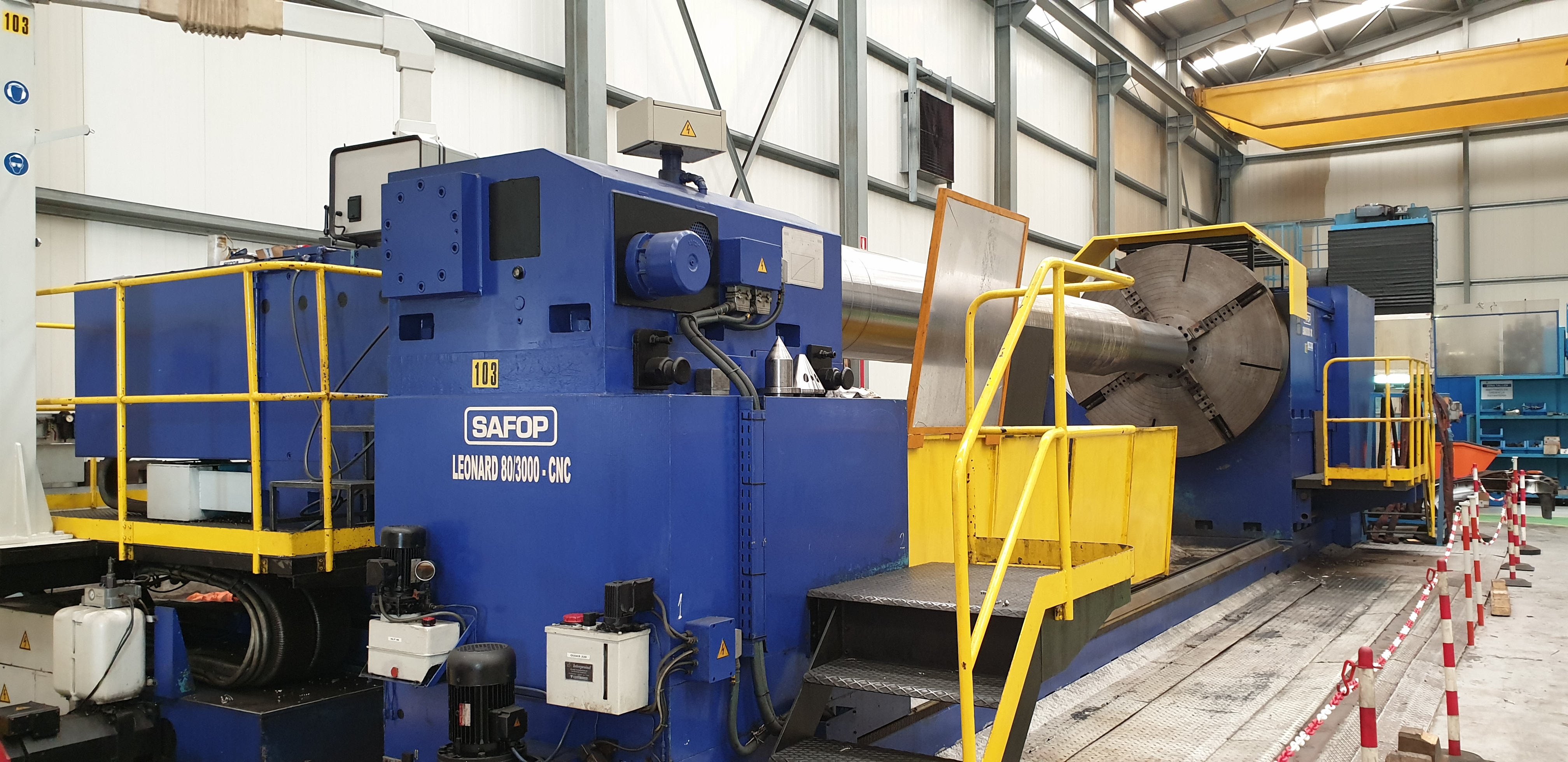 What is a CNC machine?
They are tools capable of performing multiple operations on a piece, using rotating tools with multiple cutting edges and with the minimal worker intervention during the machining process. Productivity, flexibility and precision are increased as well as achieving a better finish.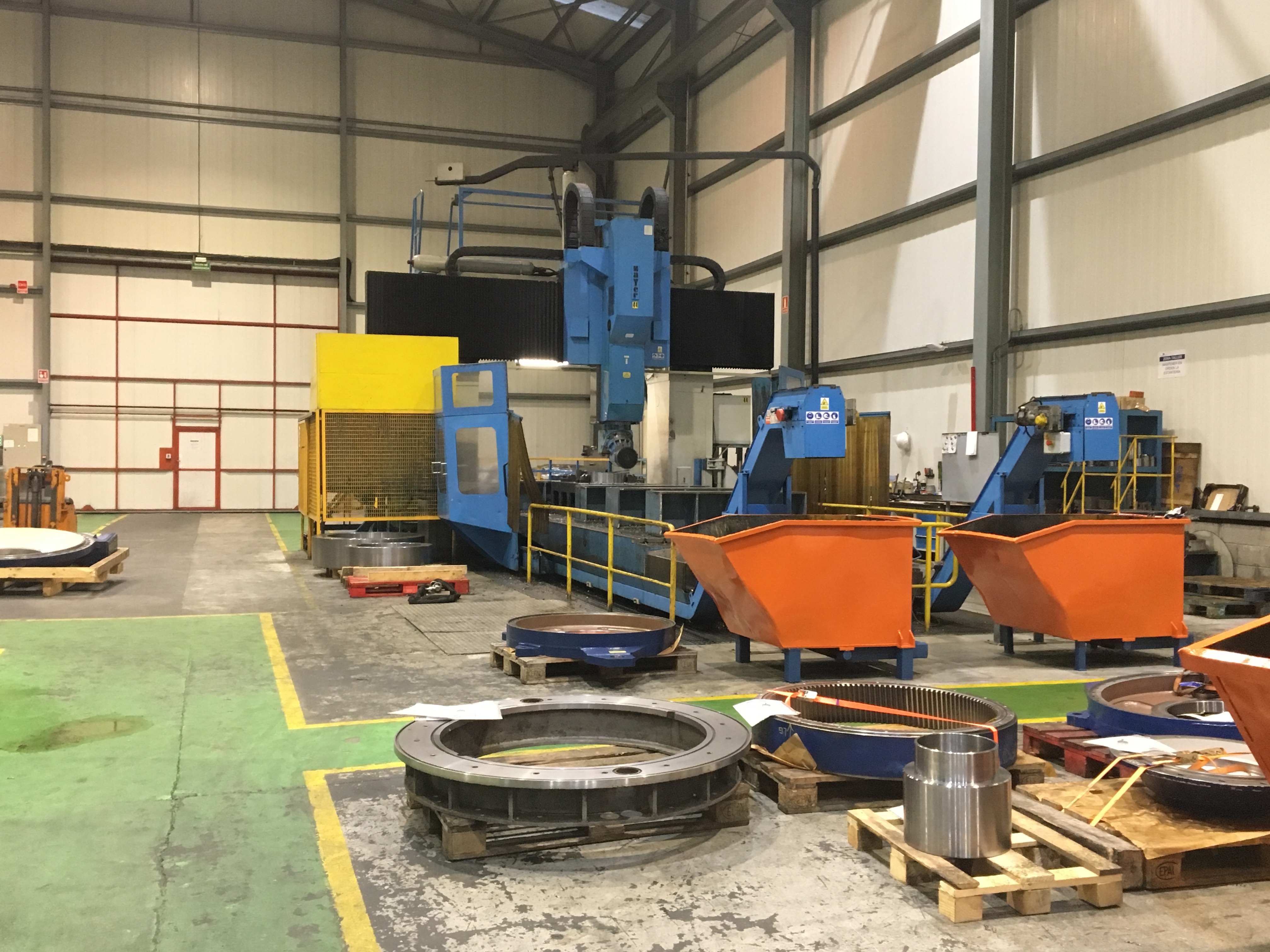 What advantages does it offer?
High precision:

The CNC software integrates CAD (Computer Aided Design) and CAM (Computer Aided Manufacturing) operations, capable of performing the same process hundreds or thousands of times with the same level of perfection.

Safety:

Workers are not in direct contact with or exposed to cutting tools.

Reduces waste:

The automatic removal of chips produces cleaner workspaces.

Execution of complex processes:

All you have to do is configure the machine and integrate the programs, thus reducing time and effort.
Our Seal of Quality
When machining large parts to the nearest hundredth of a millimetre, it is essential to ensure quality and to have a controlled and stable process. That is the reason why our workshops are acclimatised to work with a monitored temperature, and we have all the high-precision measuring tools that are necessary to guarantee the measurements of the machined parts. In addition to the self-monitoring carried out by the operators with the manual measuring equipment and the machines themselves, the parts are monitored by the metrology department with three-dimensional technology using the Laser Tracker or the 3D coordinate measuring equipment.
Our product quality department also has specialists in NDT (UT, PT, MT, Vt) in accordance with the UNE-EN-9712:2012 standard.
In Acebron Group we have obtained the ISO 9001:2015 and 14001:2015 certifications for all our manufacturing processes by Lloyd's Register Quality Assurance Ltd.
Industry 4.0
At Acebrón Group we are committed to Industry 4.0. This implies the complete digitalisation of value chains through the integration of data processing technologies, intelligent software and sensors; from suppliers to customers, in order to predict, control, plan, and produce which generates greater value to the entire chain
Our 4 factories and all our machining equipment is connected with our ERP & MRP and the production engineering department with Wi-Fi antennas through industrial communications software. We can send the programs directly from the CAM department to all the machines, improving productivity and increasing the reliability of the processes. Through our virtual machines we are capable of generating a simulation of the machining process, thus improving the efficiency, times and quality of our processes.
Our production process, manufacturing and technical office are interconnected, obtaining information in real time of the times and costs associated with each manufacturing and machining process. This synchronisation allow us to know in a very precise way what is happening regarding the production, having complete control of the production planning to ensure compliance with the project delivery deadlines.