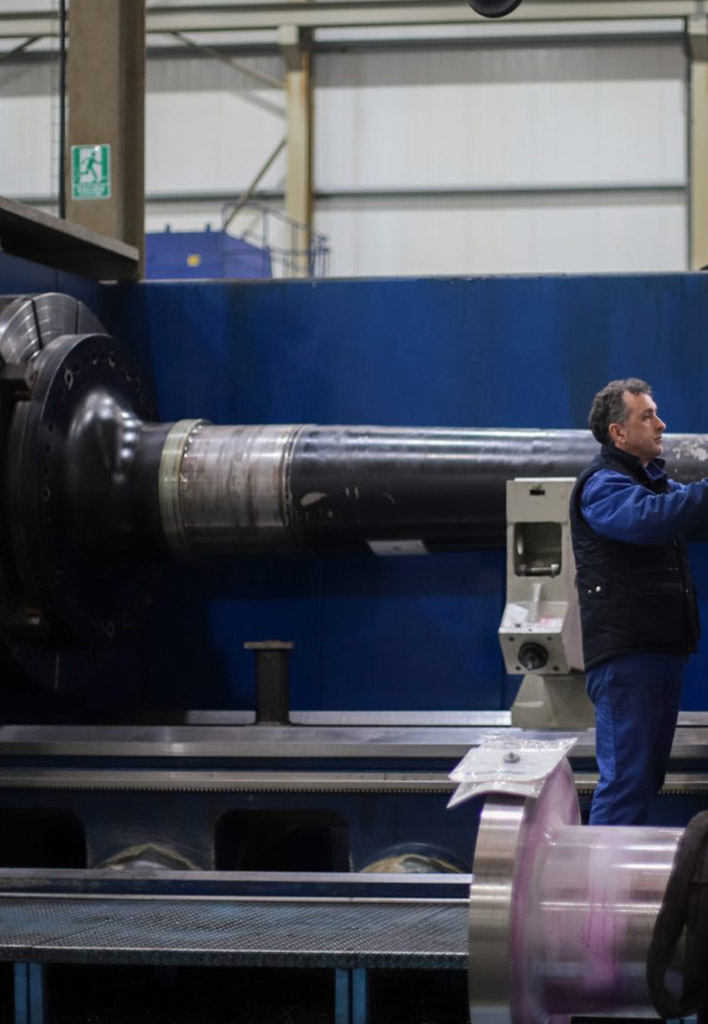 Acebron Group | The Beginnings and their Impact on the Wind Energy Sector
Leadership in innovation and customized solutions
As a leader in the industrial sector, Acebron Group places a strong emphasis on innovation and customized solutions for our customers. Thanks to our advanced Industry 4.0 technology, we can offer high-precision machining and a wide range of other services with total control over quality and delivery times. This approach allows us to adapt to the specific needs of each project, positioning us as a reliable partner in an ever-changing market.
We offer a variety of specialized services, from surface processes such as blasting and painting to welding and boiler work, establishing ourselves as a standard of excellence and precision in the industry.
Our excellence is backed by various certifications, including ISO 9001:2008, ISO14001, ISO45001 EN1090 and ISO3834. One of our competitive advantages is the precision synchronization between our machining equipment and production engineering department, which not only increases our efficiency but also ensures that we meet our delivery deadlines.
In a constantly evolving industry, Acebron Group has proven to be a pioneer in adopting advanced technologies and strengthening strategic alliances at an international level. This focus on innovation and quality has enabled the company to adapt and grow. While effective leadership has been a key factor, the company's success is also the result of a team approach involving both production engineering and machining specialists, all working in synergy to meet the highest industry standards.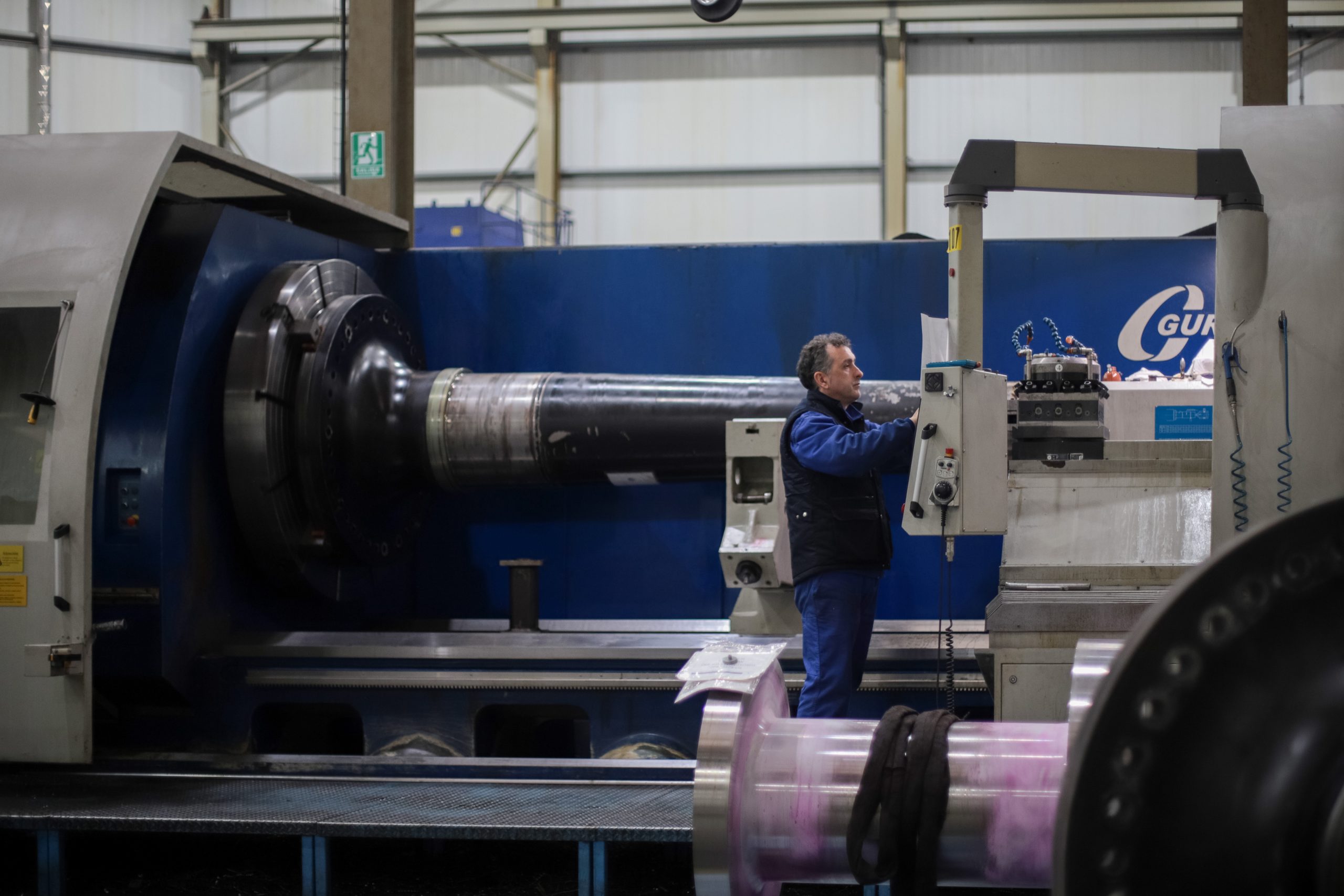 The offshore wind energy sector is experiencing rapid growth, positioning itself as the future highlight of the energy industry, with Spain projected to reach an installed capacity of 13Gw by 2050. This technology harnesses wind in offshore locations, offering significant benefits compared to traditional onshore installations, such as greater energy potential, higher wind speeds and fewer spatial constraints.
+ Manufacture of mechanically welded foundation components
+ Tooling manufacturing
+ Machining
+ Surface treatment
+ Quality control
We have participated in multiple offshore wind projects manufacturing the following mechanically welded components:
Jacket foundations:
Primary Structure: Transition Pieces
Secondary structure: Boatlanding and Rest Platform
Foundations for floating structures: Stiffeners:

Acebron Group has more than 20 years of experience in the field of repairs for the energy and industrial sector, standing out in the maintenance of wind turbine equipment. Thanks to an advanced technical team and state-of-the-art machinery, they offer repair and rehabilitation services at their facilities or at the customer's premises.
During the repair process, the feasibility of reusing parts is evaluated; those that cannot be repaired are recycled responsibly, even going as far as creating new ones through reverse engineering. This positions them as a crucial player in the sustainable supply chain for technology leaders and utilities. In addition, they specialize in the refurbishment of various parts of gearboxes and nacelles, including a wide variety of key components.
+ Manufacture and supply of new components
+ Repairs, rehabilitations and maintenance
+ Surface treatment: metallizing, shot blasting, painting
+ Welding, boilermaking, special hardfacing
+ Mechanical assembly and disassembly
acebron energiarenobable one
+ Machining
+ Reverse engineering
+ 3D measurement
+ Inspection services
+ NDT
The wind energy sector represents an unprecedented source of opportunity in today's energy landscape. With the global drive towards sustainability and decreasing dependence on fossil fuels, wind energy has positioned itself as one of the most viable and cleanest alternatives. For Acebron Group, this translates into a growing demand for its specialized services for this sector.
In Galicia, the need for wind energy is particularly pronounced, representing more than 54% of the region's electricity demand. However, the sector also faces challenges, such as legal uncertainty and the possible paralysis of new projects due to legal interpretations and activist litigation. Despite these obstacles, the growth potential is enormous. With more than 6,000 megawatts in various stages of the pipeline, and with Galicia positioned as one of the leading wind energy regions in Spain, the opportunities for a specialist company like Acebron Group are considerable.
In addition, the emergence of innovative technologies and the transition to Industry 4.0 offer new ways to optimize processes and improve efficiency in the production of wind components. Acebron Group, with its focus on quality and innovation, is exceptionally well positioned to take advantage of these opportunities and contribute significantly to the growth and evolution of the wind sector.
We face a number of challenges, ranging from global competition to the imperative of constant innovation. However, our focus on sustainable practices, environmental stewardship, and investment in growth and talent retention positions us well to continue to lead in wind energy and other segments of the energy sector.