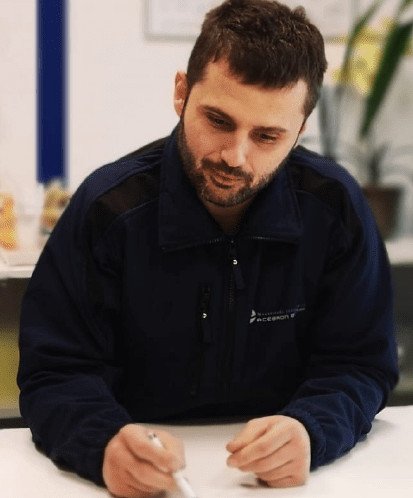 Luis Vazquez, purchasing manager and a big sports fan
Luis Vazquez is the protagonist of our March interview. He is the  purchasing manager of Acebron Group and has been part of our team for 13 years. We will know better his work in the company and his great hobby: sport.
Career at Acebron Group
Since joining Acebron Group, Luis has been through several of the factories developing various positions.
In 2007, he started working in the technical office of Talleres Acesán, supporting the welding workshop. Two years later he went to Mecanizados Acebron as reinforcement of the technical office, in this position he carried out work as a draftsman and Project Manager.
In 2014 he had the opportunity to start as purchasing manager for Acebron Group, a task he continues to play at the company today.
The highlights of the company
As a worker who has been on staff for many years, he has seen a great evolution in Acebron Group, especially in the areas of:
Implementation of Industry 4.0
Production planning
Creating a purchasing department
But when we ask him with the strength he would stay with, Luis is clear:"The good atmosphere I have with my colleagues  and the effort we put together in trying to get the job done."
The main activities as a purchasing manager
Luis tells us that the main activities he carries out in his department are: search and negotiation with suppliers, quality control of  products, management of documents related to the purchase, commercial agreements, cost reduction and  integration of  the department with those of production, engineering, administration and quality.
Since joining this department, he has noticed improvements in delivery times, customer and supplier relationships, pricing and quality of service.
To achieve these good results it is important to follow a series of basic points to ensure that there is no management flaw. Luis tells us that these points are:
"Have trusted suppliers to give us a quick response and deadlines and prices according to the need of our customers.
Two weekly meetings where we meet several departments (Technical Office, Production, Logistics and Quality) and in that meeting we set priorities and seek solutions to give the best response to our customers. "
Luis's sports vein
As Aitor Franco had already told us, at Acebron Group there are many workers who share the great fondness for sport, and Luis is one of them.
In his free time he practices mountain bike (BBT), running, triathlon and road cycling.
In addition, he usually participates in sports competitions:
"I usually participate in the Northwest Triman that is organized in As Pontes de Garcia Rodríguez, is the only triathlon away Ironman of Galicia and last year I was a finisher and this year I hope to be again."
Luis agrees that playing sports with other co-workers helps create a better work environment and  reduce  stress. That's why it's common for him to practice mountain biking and obstacle courses with his Acebron Group colleagues.