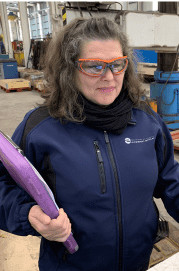 We interview María José Franco, responsible for the integrated system of Quality, Environment and OSH
We interviewed María José Franco Castro, responsible for the integrated system of Quality, Environment and Health at Work. She is one of the oldest figures of Acebron Group, as she has been part of the team since its opening, and highlights the family treatment of the company with its employees, which is maintained despite the significant growth since its foundation.
María José tells us about Acebron Group's quality activities and certifications, environmental actions, the record of accident-free days and the challenges that arise for this 2020.
Acebron Group certifications
María José makes a resume of Acebron Group's main certifications:
"We have an integrated Quality and Environment system certified in ISO 9001 and ISO 14001.
We obtained the quality system certification in accordance with ISO 9001 on April 6, 2004; certification of the Environment system in accordance with ISO 14001 on 6 April 2010, integrating the two systems.
In 2019 we implemented the Occupational Safety and Health system in accordance with ISO 45001.
In 2020 we will integrate the three systems and implement the integrated system of Quality, Environment and Safety and Health at Work, which we intend to certify in 2022."
The main activities in Quality, Environment, Safety and Health at Work
From this department they develop a lot of actions focused on ensuring optimal results. Some of these activities are:
The development of the strategic plan: for which they analyze the context, identify internal and external needs and expectations, risks and opportunities.
Risk and opportunity management: set goals, control and monitoring of the corresponding identifiers.
Waste management, identification and evaluation of environmental aspects.
The review of the facilities and the inspection of the manufactured product.
Control of calibrations and applicable legal requirements.
The generation of all the necessary documentation to meet the requirements of ISO 14001, ISO 9001, IS0 45001.
Environmental actions
Several actions have been carried out in this area to improve energy efficiency:
The luminaires have been changed to LEDs and an intelligent system has been implemented with which they are only activated when natural light is not enough.
In 2019, compressors have been changed, significantly reducing consumption.
In addition, a number of internal awareness-raising measures have been taken for the efficient use of resources.
Improving safety at work
María José states that "the implementation of the Occupational Safety and Health system according to ISO 45001, has made a more impact on safety and workers have responded very well to the changes".
In this area, the record for non-work accident days in all Acebron Group workshops stands out. Accident-free day posting screens have contributed as an important motivating element to achieve this record.
The challenges for 2020
It never stops improving, so in this department they have a number of challenges to achieve in this 2020.
Maria José tells us the main:
"Firstly, the integration of the three systems Quality, Environment and Safety and Health at Work. 
We always seek continuous improvement in our processes in order to obtain the maximum satisfaction of our customers.
Achieve the goal of Zero Accidents, because for the company safety at work is the most important thing.
To be part of the United Nations globalpact, as we met all the requirements for this and have already applied in December 2019. "
We are confident that in this year that begins all these goals and even some more will be achieved!