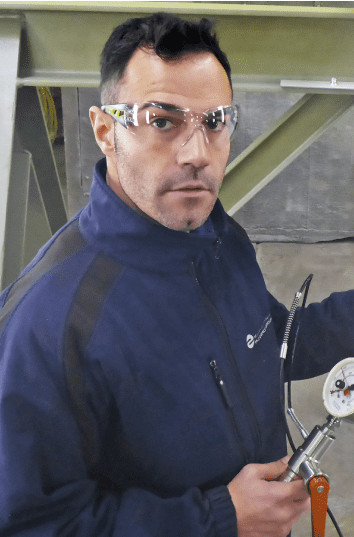 We interview Marcos Fernández, head of quality
Quality is one of Acebron Group's strengths. We interviewed Marcos Fernández, head of Quality Department, to learn more about all the actions that are being taken in this area.
Marcos has been part of the Acebron Group team since June 2008. He started thanks to an extension of the Quality Management System, which at that time was being applied in the area of machining and was also implemented in  welding and surface treatment, the areas where he is involved.
What's the difference to Acebron Group
When we ask Marcos about what he considers to be the strengths of the company that set the group apart from the competition, he stays with the integration of processes:
"We can offer the customer  services from the  complete construction  of mechanical assemblies and subassemblies, including assembly and surface treatment, to repairs of equipment damaged or requiring maintenance"
The Quality Department
Marcos knows that, in order to achieve the highest quality, it is necessary to consider all points from the entrance to the delivery of the product:
"From the Quality Department we focus on total control of the service, from the control of the suppliers to the delivery to the customer. Processes are controlled through integrated management systems."
In addition, it tells us that the main evolution that has noticed in your department since you have joined the company is the integration of the different systems. For this purpose, different standards and improvement processes have been implemented over the years, such as those related to Industry 4.0.  One of the most recent that allows you to have advanced time control and follow-up of active tasks.
Quality tools and certifications
Mediating and analyzing quality can become very complex. Marcos tells us about the tools they use for this measurement and the certifications in which their department has been formed:
"As tools we use Sixsigma, 8D, the 5 eses, and we perform internal auditsby departments for independent process control. "
"We are certified with LLOYD'S in INTEGRATED Management System ISO9001 and ISO14000, also in  en1090 and ISO 3834  standards in the area of boilermaking and we have also implemented the occupational safety and health system. "
"Asa strong point I would highlight the certification of EN1090,as it is a mandatory standardfor manufacturers of metal structures in the European market. "
The future challenges of the Quality Department
"As a challenge it is worth highlighting possible new certifications according to the requirements of our customers. We always look at the customer approach and they are the ones who demand new fields of certification. We must also set targets in energy sectors that are currently requiring high levels of quality such as nuclear, wind and hydraulics"
Marcos always keeps the customer as a center when it comes to defining objectives and challenges in the area of quality. Moreover, the most demanding sectors such as nuclear, where quality failures, however small, are not feasible.