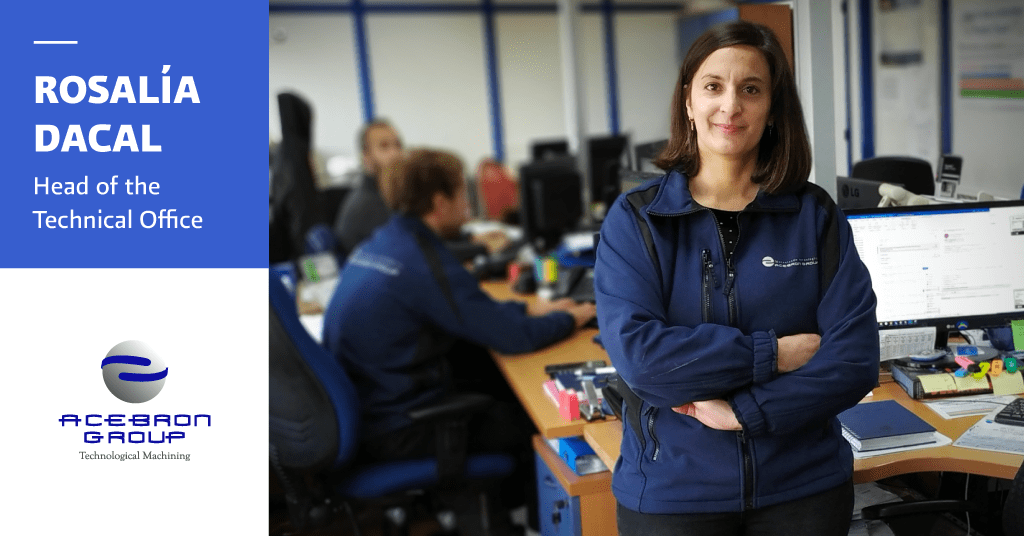 We interviewed Rosalía Dacal Barrio, head of the Technical Office
Rosalía Dacal Barrio, head of the Technical Office  of  Acebron Group, brings us to the day to day in this department is this interview. It is an area that is still mostly male, but in which women begin to have a presence.
Digitization and versatility
In the 3 and a half years he has been part of the team, Rosalía has noticed an obvious advance towards Industry 4.0,increasingly digitizing the processes to have information about the projects in real time and keep a better control.
In addition to process digitization, Rosalía highlights as Acebron Group's strengths the versatility of workers, the flexibility to adapt to the needs of customers and the diversity of projects that can be carried out.
Work in the Technical Office
When asked about the main activities that take place in the Technical Office, Rosalía replies that:
"In the Technical Office all the tasks ranging from the preparation of the offer to the management of the project are carried out.  First, we prepare and present the offers that come to us, both the economic and the technical part. Once the offer becomes an order we carry all the management of the project. This involves making purchase requisitions, reviewing specifications and certificates, preparing documentation to take the project to the workshop (plans and roadmaps), and tracking to see if the planning is met. In addition, we are the nexus with the client to solve doubts and seek solutions to different difficulties that may arise in the day to day."
In the Technical Office, coordination with other departments  is a key aspect, to improve this coordination:
Everyone has access to all the information, that's why they store the information of the offers and orders in an ERP.
They communicate through the usual tools (email, phone…) and have chat groups in Teams by themes.
They hold 3 weekly production meetings, in which they expose the point of each project, difficulties, possible delays and solutions.
There is also a weekly meeting dedicated to the offers, where they analyze the already submitted and put deadlines to the pending submissions.
The presence of women in engineering
There are still very few women in engineering positions, Rosalía tells us that she has met with other women in the Technical Office, but that this is a very small percentage. Although she is used to working with men, she adds that "it's a shame that for various reasons there are certain professions where there are so few women."
When we talk about initiatives to increase the presence of women in these areas, Rosalía believes  that:
"To increase the female presence the first thing is to start with education, familiarizing girls with the subjects of this field, making them more enjoyable and fun to make them more attracted to technical careers. In addition, it is necessary to stop associating these jobs with male roles because this makes women more attracted to jobs that are more associated with the female role. From my point of view giving more visualization to women working with technical positions would help break this partnership. On the other hand, companies must continue to bet on hiring and giving positions of responsibility in technical areas to women. "